Let Them Know You Love Them
So many people are alive but they are not really living. They are simply moving from moment to moment without any pursuit or plan. It's the same day in and day out.
Life is meant to be lived out.
We recently buried my grandfather at the Tacoma National Cemetery in Washington State as a service with Full Military Honors. The gunshots, the presentation of the flag to my step-grandma, the prayers, and tears are all a reminder that he lived a good life.
In his later years he served diligently two days a week at the local church food bank alongside his wife. He moved up to Whidbey Island after marrying so that they could be closer to his wife's children.
I didn't see him often and we spoke only periodically, but each time we did I knew I was loved and conveyed the same to him. He had a great sense of humor, laugh, and smile.
He served in WW2 in the Asian Pacific and loved his country. The funeral elegantly honored his service.
Before leaving, my Aunt showed me photos of him lounging on the inner tube in the lake at the age of 95 before passing away at the age of 96.
I've had an odd season of reminders that life is short. Within the last year I have been to the gravesites of ancestors on my Father's side in Los Ebanos, TX, the gravesites of my ancestors on my Mom's side in Hillsboro, KS, and now laid my grandfather to rest in WA. When our bodies are laid to rest we get a headstone with a name and a few dates on it. We leave behind loved ones who hopefully knew we loved them and who were better off because of the relationships we had with them.
Before I left, my dad looked me in the eyes, told me how much he loved me, thanked me for coming, and told me how much he enjoys it when we are together.
I encourage you to do that today. Let the ones you love know you love them. That is living.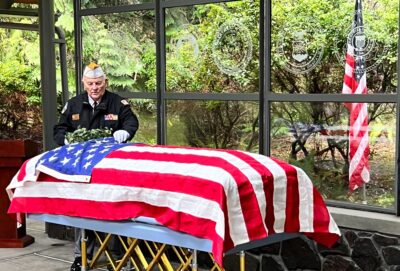 Learn more about Aaron Zapata or learn how you can work with him!